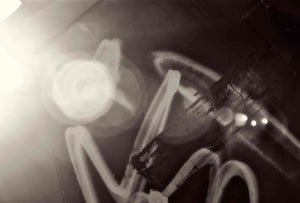 Print signed by the artist and printed on premium archival Ilford Gold Fibre Silk Baryta paper.
ABOUT THE COLLECTION
Abstract is finding an organized, harmonious orchestration of shape, line, colour, texture and light within something either mundane or not obviously 'artful'. 
ABOUT THE IMAGE
On a random walk I came across graffiti on a dumpster soaked in a beam of light. I love finding an angle or design in the midst of what is common. Freeman Patterson's classic 'Photography and the Art of Seeing' was one of my favourite books. It articulated what I'd been thinking for most of my life in terms of perception and it taught elements of visual design that have stayed with me for almost two decades. This image represents an expression of that. Where reality becomes a bit extra.
DIMENSIONS
SMALL
Image Size 17" x 11.5" [Paper Size 19" x13"] 
MEDIUM
Image Size 36" x 24" [Paper Size 44"x32"]
LARGE
Image Size 54" x 36" [Paper Size 62" x 44"]