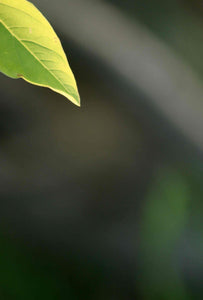 Print signed by the artist and printed on premium archival Ilford Gold Fibre Silk Baryta paper.
ABOUT THE COLLECTION
These images are about appreciating our world, and remembering the beauty in the mundane.
ABOUT THE IMAGE
It was next to a busy path, surrounded by buildings, pedestrians and a parking lot. I feel like this one leaf in perfect light is analogous to our ability to focus on the best in the midst of surroundings and distractions.
DIMENSIONS
SMALL
Image Size 11.5" x 17" [Paper Size 13" x19"] 
MEDIUM
Image Size 24" x 36" [Paper Size 32"x44"]
LARGE
Image Size 36" x 54" [Paper Size 44" x 62"]