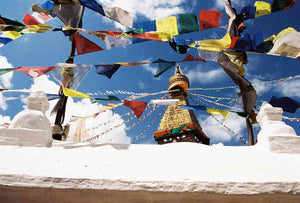 Print signed by the artist and printed on premium archival Ilford Gold Fibre Silk Baryta paper. Limited Edition (see below).
ABOUT THE COLLECTION
After a teaching stint in Japan, Mandy traveled through Bali, Thailand, Nepal and Cambodia. Accompanied by her Pentax K1000 manual camera, she was on a journey of self-discovery. It was on these travels that she came across meaningful stories, texts, courses and sites that were rich in history, culture and spiritual significance. 
ABOUT THE IMAGE
There were three frames of this image. The frame on either side showed the flags without any wind. This one caught the wind. Traditionally, prayer flags are believed to spread blessings of peace, compassion, strength and wisdom to all beings. Tibetans believe the wind will carry the prayers and mantras inscribed on the flags to all and will spread good will. 
This is Boudhanath Stupa in Boudha near Kathmandu, Nepal in 2002. There are Buddha Eyes (or Wisdom Eyes) on all four sides of the main tower. They look out into all four directions to symbolize omniscience. 
More about my trip to Nepal, and Boudhanath Stupa...
The movie Baraka, a non-narrated documentary released in 1992, made an incredible impression on me when I watched it in the early 2000s. It contained themes of natural events, life and human activities, juxtaposed with technology, and included beautiful imagery of architectural wonders and cultural phenomena from 24 countries on six continents. It created a mental bucket list for me, though I didn't know where most of the imagery or events were located. As life would have it I sort of randomly ended up at various places shown in the film years later.
Boudhanath Stupa was one of them. I had a strong feeling of wanting to go to Nepal while I was traveling through Bali and Thailand, but the country was in a state of emergency because of Maoist rebel uprisings. I'd set aside any ideas of visiting the country and sort of freely flowed to the next thing. On a two-day stopover in Bangkok, from Bali before visiting friends in northern Thailand, it seemed that everywhere I went to eat, I met people related to Nepal. A guy who'd just spent 6-months at Kopan Monastery in the Kathmandu Valley told me all about it over lunch for hours. I was riveted. Then at dinner the next day, I had a table at a busy restaurant on Khao San Road where a couple approached and asked if they could join me. They said the extra chairs at my table were the only seats available on the entire street. As we got to know each other it turned out they were expats living in Nepal. By the end of the conversation, what I most remember is her saying, "Listen, bombs go off every once and awhile, but just go." So I did. 
I remembered that an English acquaintance who I'd met while teaching in Japan had grown up in Nepal. He connected me with his friends who picked me up at the airport in Kathmandu. They were brothers from an Irish-German expat family, and were also Tibetan Buddhist so we ended up bypassing the tourist district and going to Boudha, a town on the eastern outskirts of Kathmandu, and more of a Buddhist area. On the way we passed checkpoints manned by heavily armed soldiers, some stationed behind turret guns and sandbag walls. I was in my mid-20s and so was one of the brothers, Remy. He dropped me off at a monastery guesthouse and said he'd come back in an hour and take me for momos. As we walked the narrow cobblestone streets an hour later, we came upon an enormous courtyard. We'd only walked about 10 minutes before buildings opened up and in front of me lay an architectural and cultural wonder that I'd wanted to see since the movie Baraka. Somehow, without even trying, I'd ended up exactly where I'd intended. It was Boudhanath Stupa, the largest stupa in Nepal and the holiest Buddhist Temple outside Tibet. That night, Remy asked if I wanted to see a teaching by Lama Chökyi Nyima Rinpoche. My heart leapt and I said 'Yes!' The next morning, I went to his monastery for the teaching and saw the happiest human I'd ever seen. I wanted to learn and understand how he got to be that way. I'd spent the larger part of my prior year in Japan feeling anxious, depressed and shattered from a breakup, and I wanted to find a reliable way out of suffering. It seemed the universe had my back. I'd intended to go to Nepal to trek the Annapurna Valley, but because of the Maoist upsurgence the tourist shops were closed, trekking was cancelled and every door seemed to shut. But every door seemed to open towards me learning about my inner world - to finding happiness that wasn't contingent upon a beautiful view or adrenaline rush. The next morning at the monastery I met Remy's friend Mayra - an incredible Dutch woman who was Tibetan Buddhist. We became fast friends and I spent the next weeks learning from her and Remy about the teachings and spiritual practices. I then went to Kopan Monastery for a 2-week course on Tibetan Buddhism and a 1-week silent meditation retreat. All throughout taking pictures as I explored. 
Boudhanath Stupa, Boudha, Nepal. September, 2002. Pentax K1000. 35mm film. Unedited.
EDITION & DIMENSIONS
SMALL
Limited Edition 100 Image Size: 17" x 11.5" [Paper Size: 19" x13"] 
MEDIUM
Limited Edition 50 Image Size 36" x 24" [Paper Size 44"x32"]
LARGE
Limited Edition 25 Image Size 54" x 36" [Paper Size 62" x 44"]