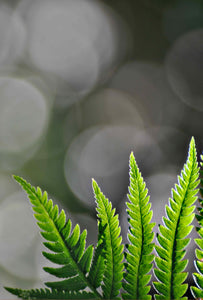 Print signed by the artist and printed on premium archival Ilford Gold Fibre Silk Baryta paper. Limited Edition (see below).
ABOUT THE COLLECTION
These images are about appreciating our world, and remembering the beauty in the mundane.
ABOUT THE IMAGE
I remember this morning - I woke naturally at first light, grabbed my camera and left my apartment to go walking along the Iron Horse Trail. This fern jumped at me - the combination of light, shape and colour. It became iridescent. One of my favourite images because the moment was magic - that liminal space where you lose track of time, self, surroundings.
EDITION & DIMENSIONS
SMALL
Limited Edition 100 Image Size: 11.5" x 17" [Paper Size: 13" x19"] 
MEDIUM
Limited Edition 60 Image Size 24" x 36" [Paper Size 32"x44"]
LARGE
Limited Edition 40 Image Size 36" x 54" [Paper Size 44" x 62"]