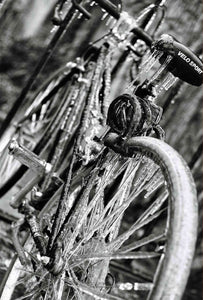 Print signed by the artist and printed on premium archival Ilford Gold Fibre Silk Baryta paper. Limited Edition (see below).
ABOUT THE COLLECTION
Abstract is finding an organized, harmonious orchestration of shape, line, colour, texture and light within something either mundane or not obviously 'artful'. 
ABOUT THE IMAGE
This was essentially the image that started my path in photography. I assumed this is how you'd take a picture of a bike and it was my mother who suggested it was art. It was in January, 1998 while at Queen's University. There was a massive ice storm that knocked out power and a bunch of us from our dorm went for a walk to explore. I brought my camera and was captivated by the ice and reflections, though the storm would wreak havoc across many provinces and states.  
Kingston, Ontario. Ice Storm 1998. Pentax K1000. Black & white film. Unedited.
EDITION & DIMENSIONS
SMALL
Limited Edition 100 Image Size: 11.5" x 17" [Paper Size: 13" x19"] 
MEDIUM
Limited Edition 50 Image Size 24" x 36" [Paper Size 32"x44"]
LARGE
Limited Edition 25 Image Size 36" x 54" [Paper Size 44" x 62"]