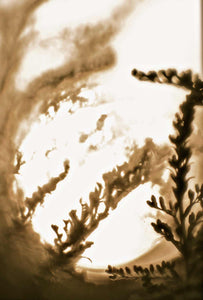 Print signed by the artist and printed on premium archival Ilford Gold Fibre Silk Baryta paper.
ABOUT THE COLLECTION
These images are about appreciating our world, and remembering the beauty in the mundane. 
ABOUT THE IMAGE
This image was taken as the sun set near my home in Kitchener/Waterloo. I was on a path looking towards a parking lot, with a space of tall grass and weeds in between. I love that in the midst of pavement and concrete life, there was this dynamic yet calm, fierce and beautiful moment. Made me feel like magic is everywhere if we look for it.
DIMENSIONS
SMALL
Image Size 11.5" x 17" [Paper Size 13" x19"] 
MEDIUM
Image Size 24" x 36" [Paper Size 32"x44"]
LARGE
Image Size 36" x 54" [Paper Size 44" x 62"]