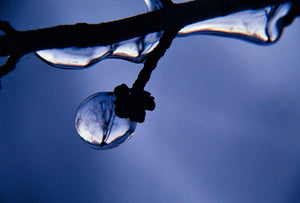 Print signed by the artist and printed on premium archival Ilford Gold Fibre Silk Baryta paper. Limited Edition (see below).
ABOUT THE COLLECTION
These images are about appreciating our world, and remembering the beauty in the mundane. 
ABOUT THE IMAGE
This was taken in the spring at a park near my house in Kingston, Ontario. Ice was melting and I loved going out for walks with my camera to look for cool reflections and other snowy and icy goodness. The image isn't touched - somehow the background sky was this deep blue, and a tree was caught in the reflection. 
Kingston, Ontario. Pentax K1000. Slide film. Sometime between 2003-2007. Unedited.
EDITION & DIMENSIONS
SMALL
Limited Edition 100 Image Size: 17" x 11.5" [Paper Size: 19" x13"] 
MEDIUM
Limited Edition 60 Image Size 36" x 24" [Paper Size 44"x32"]
LARGE
Limited Edition 40 Image Size 54" x 36" [Paper Size 62" x 44"]