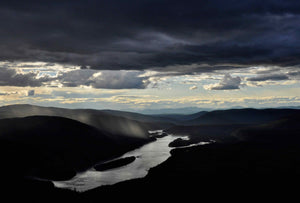 Print signed by the artist and printed on premium archival Ilford Gold Fibre Silk Baryta paper.
ABOUT THE COLLECTION
These images are about appreciating our world, and remembering the beauty in the mundane.  
ABOUT THE IMAGE
A view of the Yukon River from the Midnight Dome during the Solstice in 2010. 
DIMENSIONS
SMALL
Image Size 17" x 11.5" [Paper Size 19" x13"] 
MEDIUM
Image Size 36" x 24" [Paper Size 44"x32"]
LARGE
Image Size 54" x 36" [Paper Size 62" x 44"]