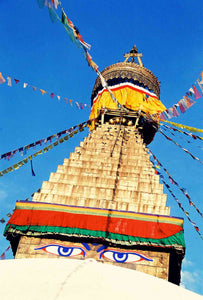 Print signed by the artist and printed on premium archival Ilford Gold Fibre Silk Baryta paper. Limited Edition (see below).
ABOUT THE COLLECTION
After a teaching stint in Japan, Mandy traveled through Bali, Thailand, Nepal and Cambodia. Accompanied by her trusty Pentax K1000 manual camera, she was on a journey of self-discovery. It was on these travels that she came across meaningful stories, texts, courses and sites that were rich in history, culture and spiritual significance. 
ABOUT THE IMAGE
This is the zenith of Boudhanath Stupa in Kathmandu, Nepal in 2002. There are Buddha Eyes (or Wisdom Eyes) on all four sides of the main tower. They look out into all four directions to symbolize omniscience. 
September, 2002. Kathmandu, Nepal. Pentax K1000. 35mm film. Unedited.
DIMENSIONS
SMALL
Limited Edition 100 Image Size 11.5" x 17" [Paper Size 13" x19"] 
MEDIUM
Limited Edition 50 Image Size 24" x 36" [Paper Size 32"x44"]
LARGE
Limited Edition 25 Image Size 36" x 54" [Paper Size 44" x 62"]