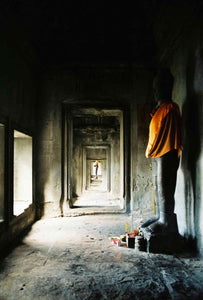 Print signed by the artist and printed on premium archival Ilford Gold Fibre Silk Baryta paper. Limited Edition (see below).
ABOUT THE COLLECTION
After a teaching stint in Japan, Mandy traveled through Bali, Thailand, Nepal and Cambodia. Accompanied by her Pentax K1000 manual camera, she was on a journey of self-discovery. It was on these travels that she came across meaningful stories, texts, courses and sites that were rich in history, culture and spiritual significance. 
ABOUT THE IMAGE
This shot was taken at Angkor Wat's temple complex in 2001, where I was crouched down, peering through the viewfinder, while the camera lay on the floor within a door frame. Each entrance was getting smaller towards the centre of the temple. Over the years, having met people who have traveled to the temples and seen this image, many remarked that the opportunity for this photograph doesn't exist anymore because there's always a hand or foot or person in the frame. When I took this, the tourist infrastructure was in its relatively early stages due to political instability. The site was almost empty at times. Comparatively, there weren't as many tourists then as there would be in years to come. If you look closely you can see smoke from the incense wafting through the air at the base of the statue. 
December, 2001. Angkor Wat, Cambodia. Pentax K1000. 35mm film. Unedited.
EDITION & DIMENSIONS
SMALL
Limited Edition 100 Image Size 11.5" x 17" [Paper Size 13" x19"] 
MEDIUM
Limited Edition 50 Image Size 24" x 36" [Paper Size 32"x44"]
LARGE
Limited Edition 25 Image Size 36" x 54" [Paper Size 44" x 62"]