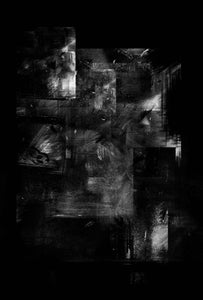 Print signed by the artist and printed on premium archival Ilford Gold Fibre Silk Baryta paper.
Medium and Large Limited Editions (see below).
ABOUT THE COLLECTION
These are composite pieces based on the RAW Series images. I'm fascinated by beauty being everywhere - that the basis of reality is more vibrational and energetic than stagnant matter. To me this indicates a beauty in everything, all the time if we maintain that perspective and have the ability to perceive what's around us through a particular lens or understanding. 
I'd sold my camera to go to a music festival because life, and so I was in Montreal, walking to and from the grocery store, walking by lampposts and telephone poles with random scrawl, torn posters, errant graffiti or tags and rusted metal. I would see shapes, line and texture in the jumble, that if framed right, looked cool. I started taking pictures with my iPhone, which was more practical, always on me and less intrusive than a DSLR body and lens. Then at home, I'd make the images black and white, bring them into Photoshop and layer an image on itself dozens, even hundreds of times, and have fun with the process of cutting, pasting, erasing, transforming the canvas into something new. What I love is that a common, and perhaps unsightly, part of urban life, can become something more.
This is essentially the process. Each of the smaller boxes in the upper right quadrant is an abstract image taken from a phone pole or lamppost, then transformed into black and white (lower left), where one of the images is layered on itself and I make something else from it. 
DIMENSIONS
SMALL
Image Size 11.5" x 17" [Paper Size 13" x19"] 
MEDIUM
Limited Edition 50 Image Size 24" x 36" [Paper Size 32"x44"]
LARGE
Limited Edition 25 Image Size 36" x 54" [Paper Size 44" x 62"]