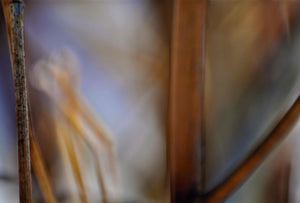 Print signed by the artist and printed on premium archival Ilford Gold Fibre Silk Baryta paper.
ABOUT THE COLLECTION
These images are about appreciating our world, and remembering the beauty in the mundane. 
ABOUT THE IMAGE
This is one of my favourite images because I got lost in some other world while taking it. To look at the scene from behind the camera, away from the lens, it looked like a dark, random shrub-like forest of bare sticks. But when looking through the lens, because there were so many depths of focal points and action, it became a sea of potential composition. A space for something new and unbelievable to take shape before my eyes. Transformation. A stick became something more. It looks painted, but hasn't been edited or touched in post. It was a dreamy experience looking through the lens. My perception was touched by a filter, the lens. I love the metaphor for how we perceive life. Projecting via our own filters and lenses, and receiving an image back based on that distillation. 
DIMENSIONS
SMALL
Image Size 17" x 11.5" [Paper Size 19" x13"] 
MEDIUM
Image Size 36" x 24" [Paper Size 44"x32"]
LARGE
Image Size 54" x 36" [Paper Size 62" x 44"]