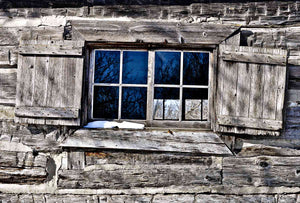 Print signed by the artist and printed on premium archival Ilford Gold Fibre Silk Baryta paper.
Medium and Large Limited Edition (see below).
ABOUT THE COLLECTION
Abstract is finding an organized, harmonious orchestration of shape, line, colour, texture and light within something either mundane or not obviously 'artful'.
ABOUT THE IMAGE
On a walk I saw this and loved the distinct blue of the windows and textured exterior. It represents an idea of a life I once wanted to live - the fabled cabin in the woods with its space for introspection and reflection, creative pondering, inspired writing, whimsical thoughts, endless days and cozy nights. 
EDITION & DIMENSIONS
SMALL
Image Size 17" x 11.5" [Paper Size 19" x13"] 
MEDIUM
Limited Edition 40 Image Size 36" x 24" [Paper Size 44"x32"]
LARGE
Limited Edition 15 Image Size 54" x 36" [Paper Size 62" x 44"]