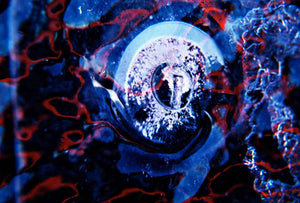 Print signed by the artist and printed on premium archival Ilford Gold Fibre Silk Baryta paper. Limited Edition (see below).
ABOUT THE COLLECTION
Abstract is finding an organized, harmonious orchestration of shape, line, colour, texture and light within something either mundane or not obviously 'artful'. 
ABOUT THE IMAGE
It was winter in Kingston on an especially icy day. I had a navy blue 1998 (legendary) Jeep Cherokee and was parked downtown. When I came back to the jeep, ice had caked on super thick and a red sports car had parked next to me. The image is a close up of the keyhole on the passenger side door, with the blurry reflection of the red sports car combined with the icy refraction of the Jeep's blue exterior. 
Kingston, Ontario. Winter. Early 2000s. Pentax K1000. Slide film.
EDITION & DIMENSIONS
SMALL
Limited Edition 100 Image Size: 17" x 11.5" [Paper Size: 19" x13"] 
MEDIUM
Limited Edition 60 Image Size 36" x 24" [Paper Size 44"x32"]
LARGE
Limited Edition 40 Image Size 54" x 36" [Paper Size 62" x 44"]