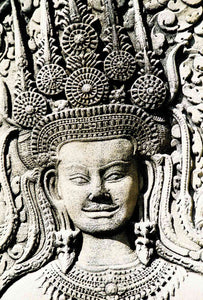 Print signed by the artist and printed on premium archival Ilford Gold Fibre Silk Baryta paper. Limited Edition (see below).
ABOUT THE COLLECTION
After a teaching stint in Japan, Mandy traveled through Bali, Thailand, Nepal and Cambodia. Accompanied by her Pentax K1000 manual camera, she was on a journey of self-discovery. It was on these travels that she came across meaningful stories, texts, courses and sites that were rich in history, culture and spiritual significance. 
ABOUT THE IMAGE
I met a professional photographer while traveling through Siem Reap, the village that is the gateway to the ancient ruins of Angkor Wat. These temples, full of intricate carvings, buildings and mysterious faces, housed the Khmer kingdom from the 9th-15th centuries. We were both there to explore for the week. We met most every day and he taught me the ropes; everything from technical advice to experiential stories. He told me he'd sleep during the midday when the sun was harshest, and the best time for outdoor light is early to mid morning and late afternoon/golden hour. This image was from the main temple at midday when the sun was harshest, but captured the rich detail of this carving. I love this image and tried to capture it at other times of day, but this was my favourite.
The Khmer civilization respected women and their temples are filled with images of sacred women, termed devata, apsara or Khmer goddesses, who embody the feminine energy of the universe. This is one of over 2000 documented portraits of ancient Khmer women enshrined in the main Angkor Wat temple.
December, 2001. Angkor Wat, Cambodia. Pentax K1000. 35mm film. Unedited.
EDITION & DIMENSIONS
SMALL
Limited Edition 100 Image Size 11.5" x 17" [Paper Size 13" x19"] 
MEDIUM
Limited Edition 50 Image Size 24" x 36" [Paper Size 32"x44"]
LARGE
Limited Edition 25 Image Size 36" x 54" [Paper Size 44" x 62"]